About the Program
The Harrington Faculty Fellows Program supports approximately five Fellows each academic year. These Fellows visit UT Austin to pursue their research and collaborate with colleagues. The normal period of appointment is the academic year, though some Fellows choose to stay for the summer as well. A Harrington Faculty Fellow is on leave from her or his home university and is appointed as a visiting member of the UT Austin faculty, with a stipend representing a substantial increase over the salary at the home university, relocation expenses for external Fellows, full medical benefits, etc. Office space and limited administrative support are provided by the host department, organized research unit (ORU), or institute.
Since the primary purpose of the Harrington Faculty Fellowship is to pursue research, the Fellows have no teaching obligations. Fellows are, of course, free to conduct seminars if they wish. In addition, each Fellow will be provided with funding to support a symposium during the period of his or her stay.
To ensure the diversity of backgrounds among the recipients and sustain the international prestige of the program, at least 75 percent of the Fellows are recruited from institutions outside the university; no more than 25 percent come from UT Austin.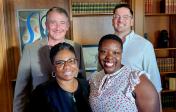 View the current Harrington Faculty Fellows.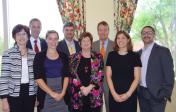 View the past recipients of the Harrington Faculty Fellowship.


Selection Process
To be considered for a faculty fellowship, you must be nominated by the UT Austin academic department that houses your discipline. Contact the department chair in your field to inquire about a nomination.
You can also contact Michelle George, the Harrington Fellows Program Coordinator, with any questions. 
Contact: Michelle George, Harrington Fellows Program Coordinator
Location:
Office of the Executive Vice President and Provost
Address:
The University of Texas at Austin
110 Inner Campus Drive, Stop G1000
Austin, Texas 78712
Email:
Phone:
Other Information
View the symposiums organized by the Harrington Faculty Fellows from 2001 - present.