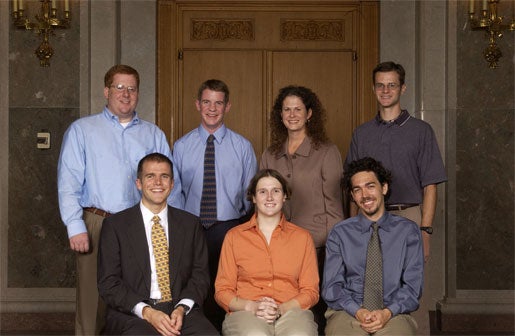 Back row, left to right: Kendall Owen Bowlin, Jeremy Matthew Brown, Tracie Culp Harrison, Matthew Robert Walker

Front row, left to right: Paul Lloyd Larsen, Tracy Laine Bucholz, Ronald Joseph Briggs

Not pictured: Frances Lourdes Ramos
Kendall Owen Bowlin
Doctoral Fellow
Accounting
Previous degree from University of Mississippi
UT Austin: Department of Accounting
Kendall Bowlin investigates many questions about financial accounting, factors in management and auditor decision making, and the market's response to certain accounting and reporting issues. Bowlin is also interested in which types of financial disclosures are most important to the market and how the news media affects which disclosures the market deems important.
Ronald Joseph Briggs
Doctoral Fellow
Economics
Previous degree from University of California – Davis
UT Austin: Department of Economics
Ronald Briggs' research focuses on Environmental Economics and Game Theory. Briggs aspires to develop an integrated perspective on the behavior of agents in markets, the institutions that shape markets, and the evolving games between them.
Jeremy Matthew Brown
Doctoral Fellow
Ecology, Evolution and Behavior
Previous degree from Indiana University
UT Austin: School of Biological Sciences/Ecology, Evolution and Behavior Program
Jeremy Brown's work examines human-induced evolution and speciation. Most of his work in evolutionary genetics investigates genetic patterns observed across life, why they vary, and what shapes them. Specifically, his research focuses on why the DNA sequences of different organisms evolve at different rates, as well as the genetic processes underlying the formation of new species.
Tracy Laine Bucholz
Doctoral Fellow
Chemical Engineering
Previous degree from University of Florida
UT Austin: Department of Chemistry and Biochemistry
Deferred to 2006
Tracy Bucholz's research aims to use chemistry to facilitate the intelligent design of a myriad of new materials such as low dielectrics constant polymers for use in smaller electronic devices, as well as stimuli-responsive polymers for use in drug delivery systems and biosensors.
Paul Lloyd Larsen
Doctoral Fellow
Mathematics
Previous degree from Oxford University
UT Austin: Department of Mathematics
Paul Larsen's work focuses on the mathematical structures of nature, specifically the areas of granular flow and dynamical systems.
Matthew Robert Walker
Doctoral Fellow
Computer Science
Previous degree from Rice University
UT Austin: Department of Computer Science
Matthew Walker's work focuses on the incorporation of domain-specific knowledge into the problem of clustering. He hopes to formulate constraints based on this knowledge using entropy to capture the "amount" of deformation of the data space required to achieve the desired clustering.
Tracie Culp Harrison
Dissertation Fellow
Nursing
Previous degree from The University of Texas at Austin
UT Austin: School of Nursing
Tracie Harrison investigates women with childhood onset disabilities who are living longer now than ever before in history, but are experiencing higher levels of co-morbidities and secondary conditions than women aging without disabilities.
Frances Lourdes Ramos
Dissertation Fellow
History
Previous degree from Florida International University
UT Austin: Department of History
Frances Ramos' research focuses on the relationship between the elaborate production of religious ritual and the maintenance of political power in the 18th century city Puebla de los Angeles, Mexico.
Contact: Dr. Marvin L. Hackert
Email:
Phone: